My Bridesmaid Boxes and How I Proposed
The most anticipated moment so far in wedding planning has been proposing to my bridal party. It took me weeks to curate the perfect proposal plan and prepare my boxes to ensure every little detail was considered. I wanted to make sure my announcement was as special as my relationship with each and every one of the bridesmaids.
Friendship and family is very important to me, so I'm extremely passionate towards the people I love. These girls have been by my side through thick and thin and have shared some of the best (and not so best) moments of my life with me.  I wanted to go a little bit above and beyond for them to express how much they mean to me.

I decided to make my girls personal bridal boxes filled with thoughtful items that I know they'd love. The best part about boxes is there's less pressure finding that one "perfect" gift- instead you can fill it with cute, practical stuff!
If you are a bride or bride-to-be, here are some ideas for putting together the perfect bridesmaids proposal.
start with the box. I felt super inspired by all of these adorable hamper boxes from @bridesmaidboxes but I didn't love the hefty price tag. So I did what I do best, a little DIY hack. These wood boxes were the ideal situation because they had sliding lids and were the perfect size. Get a 15% discount when you use my code G&V at checkout!
** update ** those boxes are no longer available so you can check out this alternative box here and here.
Inside my box
Will you be my bridesmaid card // I searched for a set of cards that were minimalist and whimsical, and I loved these from Etsy! I wrote a little personalized message inside for each girl and it was the perfect proposal.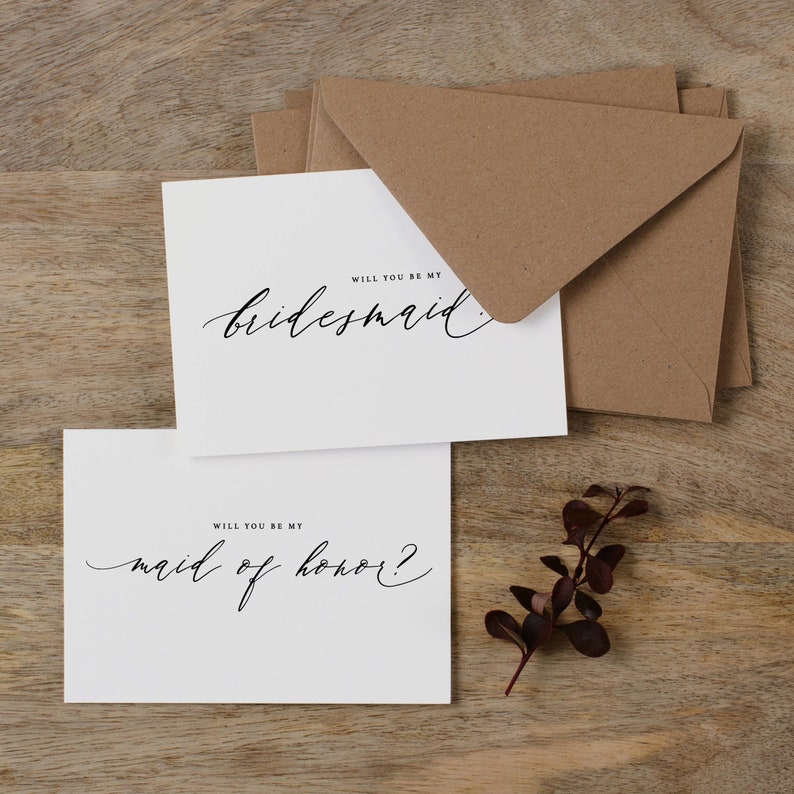 2. Personalized champagne flutes // bcuz what's a bridesmaid box without champagne flutes?! Most flutes are around $10/glass so I went with these from Etsy and stuffed each one with white tissue paper.
3. 1920's style Aphrodite compact mirror // Ok, possibly my favorite gift ever! The shop owner was so accommodating she even included an extra one for me, the bride 🙂 On the back of each mirror has every bridesmaid's initials engraved. The girls all loved their vintage compact mirrors.
4. Dried florals // my favorite kind of bouquet? a dead one. You can read all about my DIY dried floral bouquet from my previous post.
5. DIY bridesmaid candles // Another money saving hack. Instead of buying (pricey) bridesmaid candles on Etsy I made them myself for a fraction of the cost! I bought a pack of these aroma scented candles for $15 and then created my own bridesmaid labels. I bought this editable template on Etsy and then printed on sticker paper.
3. Formula 55 hand soap  // These luxury soaps are such a good gift idea, because people usually never buy it for themselves but always love them.
Like I said, these girls mean everything to me so I decided to spoil them with a prix-fixe brunch at La Pecora Bianca. If you're a foodie, you have to come here! Their pasta dishes are famous in NYC – including their dish La Gramigna. It's seriously unreal. I even have my caterer mimicking this dish for my wedding menu lol.
I arrived early to set up the table and prepare for the girls to arrive. I was so nervous/excited!! We had Bellinis and bloody Mary's flowing and ton's of delicious food that we shared family style.
Long story short, they all said yes! My bridal party consists of my closest friends and Pasquale's sisters who I consider my own sisters. It was a beautiful day shared with laughs and moments I'll remember for the rest of my life.
Meet Vanessa, my beautiful maid of honor!
We've been best friends since 15. She's currently a world traveler living her best life, and is right now living in Barcelona. She came home for a week so I am looking forward to soaking up as much of her as I can before she's back to Europe! She wants to plan the Bach party in Spain so I'm looking forward to spicy margaritas and white sand beaches, woo hooooo.
So that's it, another item crossed off of the wedding master list. I am having so much fun planning our special day and feel so blessed to have such amazing friends and family in my life to share these moments with. My mom thinks I should be an event planner- ahha.
As always, thanks for stopping by and if you have any questions leave a comment below!
XO Victoria